MIND TREE SCHOOL, PANJOKHRA, AMBALA Vision and Mission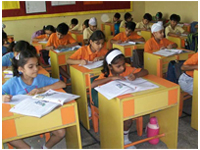 There is
no vacancy for classes Grade IV to IX
for the session 2019-20.
However, you may give an application personally at the school reception along with a copy of your ward's latest report card. Meritorious and specially talented children at various state/national levels in the field of sports, dramatics etc. would be given preference in case of any vacancy.
The decision of the school panel would be final.
The management of the school reserves the right to grant or refuse admission.