Mind Tree School, Sector 1, Ambala City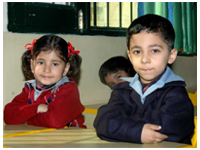 There is
no vacancy
for
classes LKG to Grade III
for the session
2022-23.
However, you may give an application personally at the school reception along with a copy of your ward's latest report card in the month of March. Meritorious and specially talented children at various state/national levels in the field of sports, dramatics etc. would be given preference in case of any vacancy.
---
Admission Process: Nursery
Eligibility Criterion:
Minimum age should be
3 Years 1 Day as on 1st April, 2022
for admission to Nursery
Admission Procedure:
The school follows a simple admission process, in accordance with the criteria and guidelines issued by state government and the Government of India. Preference is given to students whose siblings are studying in Mind Tree School, Sector 1 or Mind Tree School, Panjokhra and to the children of the teaching staff.
Declaration of Result – 6th February, 2022:
The prospective students will be informed through SMS. Admission fee for the general category must be deposited in the bank by
12th February, 2022.
The norms set by the government with respect to admissions for the economically weaker sections (EWS) are followed duly by the school. In case the number of applications exceeds the number of seats, admission will be though a draw of lots. The draw of lots will be held at the
end of March, 2022.
Important Documents to be attached with the Application Form:
• Birth Certificate
• Aadhaar Card (parents' and child's) / PAN Card / Ration Card / Voter ID Card
• Photographs (2 copies each of child and both parents)
• Caste Certificate (If the child belongs to SC / OBC / BC-A / BC-B, then provide)
• Submission of the form is not a guarantee of admission.