Sports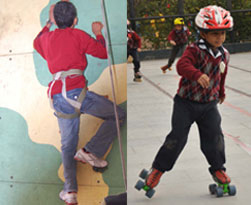 We at Mind Tree aim at overall development of the child. A complete gamut of co-curricular and personality development activities at the school provide every child with a phase where they can gain the poise to outperform.
Our endeavor is to provide a proper atmosphere for the all round growth of the child. Co-curricular and extra-curricular activities form an integral part of the curriculum. These activities help develop and bring forth the talent and creativity of our Students. Performance in activities is given equal importance as in academics and sports. Such activities improve creativity, enhance confidence levels, inculcate discipline, enhance leadership qualities and abilities and stimulate the student to become a team player.
One of the key aspects in the development of a child is his exposure to sports. In the modern world of television and internet, we are seeing an increasing tendency amongst students to avoid the playground and instead spend their time playing video games and consuming other forms of entertainment. Keeping in mind how important physical activity is for children, Mindtree conducts an extensive set of sports activities. These include:


The above activities are conducted with a dedicated schedule and carried out in the most comprehensive manner. Along with the above, we have special facilities such as sand pits and splash pools so that children can enjoy themselves to the fullest while playing around.