Mind Tree Shahabad School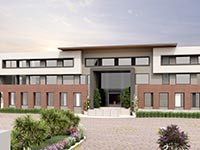 Mind Tree School is situated in the heart of Shahabad Markanda. It is a privately managed institution that follows CBSE guidelines. This school is an initiative of the "Shri Nath Ji Educational Society". The trust derives its strengths from a core team of academicians and professionals who have excelled in the field of education. The school program is designed around the factors which lead to success of all learners. Every student is exposed to a holistic education experience in an active & dynamic learning environment, which provides an opportunity to realize one's potential and achieve excellence. A group consisting of experienced educationists, psychologists, teachers, artists and sports persons have crafted the curriculum, drawing from the CBSE curriculum and bench-marking with various international curricula for their standards and methodologies, customised to the Indian environment. Our approach is learner-centric, with an integrated approach developing multiple skills through various stages of child development. At the heart of the culture & curriculum of the school lies the focus on self development.
---
Eligibility Criterion:
• Nursery - Minimum age should be 3 Years 1 Day as on 1st April, 2022.
Admission Procedure:
The school follows a simple and transparent admission process, strictly in accordance with the criteria and guidelines issued by State Government and the Government of India.
Important Documents to be attached with the Application Form:
• Birth Certificate
• Aadhaar Card (parents' and child's) / PAN Card / Ration Card / Voter ID Card
• Photographs (2 copies each of child and both parents)
• Caste Certificate (If the child belongs to SC / OBC / BC-A / BC-B, then provide)
• Submission of the form is not a guarantee of admission.