Mind Tree School, Sector 1, Ambala City
Infrastructure & Facilities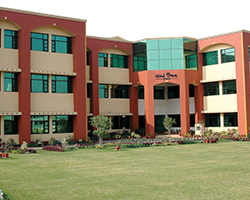 The Junior Wing (Classes Kindergarten to III) of Mind Tree School is situated in the heart of Ambala City in Urban Estate, Sector 1. It is a privately managed institution that follows CBSE guidelines. This school is an initiative of 'The Learning Curve Educational Trust'.
Young minds are nurtured in early childhood. Through ample possibilities and opportunities, we provide them a harmonious environment and nourish their imagination to develop self-esteem.
Some of the special features of the school are:

Tech Smart Classrooms
Adequately ventilated, spacious and attractive classrooms, equipped with colorful and child friendly furnishings make it an ideal place for learning. Class rooms are equipped with audio-visual & networked computer facility that makes it an ideal place for learning.

Play Area
Well equipped & maintained outdoor play area is aptly designed for a fun filled, yet rich learning experiences through exploration and discovery. Play area includes all type of modern swings for the fun & activities.

Sand Pit
Sand play area to unleash creativity of young ones.

Splash Pool
Modern splash pool with rain & sea theme and equipped with water toys .

Digital Library
The Library (Resource Centre) has a large number of carefully chosen books, reference books & encyclopedias graded as per age level. Here is also a large pool of audio and video resources available to the students. The library subscribers to a variety of newspapers and magazines.

Modern Computer Lab
School has well equipped & latest computer lab with all software. Computer lab has seamless internet connectivity which helps students to explore the world.

Mini Theatre & Play Room
School has modern mini theater with high definition TV & Sound system where educational films are screened. It also has indoor rides, soft & educational toys to make learning a fun.

Indoor Sports facilities
Sports are an integral part of childhood. Indoor Sports Activities includes Karate, Aerobics, Carom, Gymnastics & Table Tennis are just few of them.

Outdoor Sports facilities
Sports are an integral part of childhood. The Sports Academy at Mind Tree focuses on both Indoor as well as Outdoor sports such as Skating, basket ball , Kho-kho & lawn tennis & Shooting

Art & Music
We have an acoustically designed auditorium, activity rooms with adequate facilities for music, dance and drama to ensure that the children's creative side always finds exposure and expression.

Security
Keeping in mind the prevalent uncertain circumstances, well trained security personnel safeguard the campus.

Power Backup
100% Power backup is provided through eco-friendly silent generators for hassle free functioning.

Transport Facility with Communication Systems
Latest and adequate fleet of vehicles picks and drops students safely. Our system of transportation is completely secure, and we provide a special SMS service which informs the parents of the following: the bus is about to arrive (the sms is sent 2 stops in advance), the safe arrival of students at school and when they board the bus for returning home.